Vintage Rolex Submariner – Accurate, Resilient and Very Cool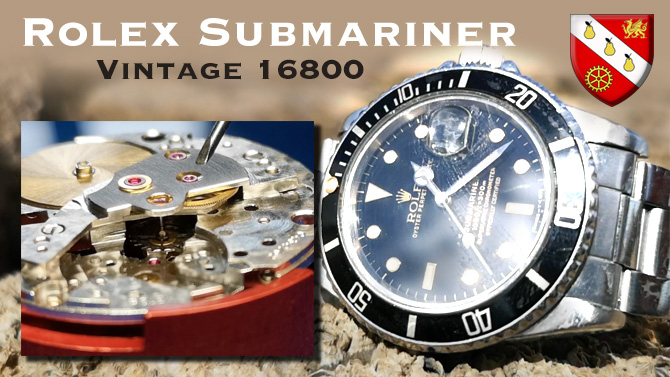 The desire for a new watch is perfectly understandable; folks like new stuff!  It's just the way it is. Whether or not it is the right way to go when dropping $7K on a watch is ultimately only something the person buying the watch can make a judgement on.  What is certain however is that it is not the only option.  In my work as a watchmaker I routinely service Vintage Rolex watches and I am constantly struck by just how functional and resilient these pieces are.
Rolex Submariner Evolution 
The ubiquitous  Submariner has been through an interesting evolution in terms of both movement and subtle styling on the case.  The transition to high beat (28,800 vph) was fundamental in terms of its power pack improvement and the 3135 movement which as I write this in September 2019 still powers the latest models is a very business like engine.  The 3035 movement is also highly functional and the 1500 movements still hold their own very nicely.
Rolex Submariner Styling
So, with the internal technology then there is a compelling argument that this  evolution has seen steady and demonstrable improvement.  The criteria for measuring this is reasonably objective and hence contention is low on this issue.  However, when we consider the concurrent evolution in case design the same lack of contention is missing.  There is no raging agreement that Rolex has got the styling of its current submariner range case 'right'.  Such judgements are of course much more subjective and with Rolex stoking demand by constricting the pipeline to the Authorised Dealers effective analysis of sales based on true 'consumer taste' is tricky.  There is a feeling that the modern watches are in demand because they are hard to get not because of some fabulous intrinsic design triumph.
This dissatisfaction with the modern styling is something quite commonly voiced and the look of a watch is of course very important.  There is a feeling maybe that the design of the earlier models, the Rolex 16610, Rolex 16613 (probably the best vintage Rolex in my view of them all)  The answer to all this aggravating nonsense with waiting lists to me seems pretty obvious  … do not buy new!
The answer to all this aggravating nonsense with waiting lists to me seems pretty obvious  … do not buy new!
Buying a vintage piece is in the current climate not a bad option at all.
Vintage Rolex Submariner 16800
This article compliments the video I made for my YouTube channel on this watch.  So if you would like a really good look at this vintage Rolex in action then take a look ….
https://www.youtube.com/watch?v=cRq87jJ0BuU
The Advantages and Disadvantages of Buying a Vintage Rolex
The advantages and disadvantages of buying a vintage Rolex are …