Bumping Into The G-Shock Carbon Core Guard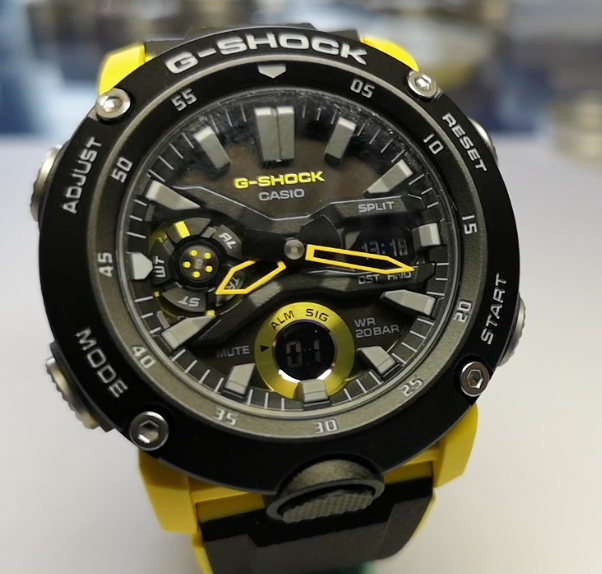 Like a lot of good things in life this review of a Casio G-Shock Carbon Core Guard Watch was the result of an opportunity seized rather than outcome of any careful planning.  It all started on a recent trip to London during which my daughter announced an urgent need for Puma training shoes which could apparently be best procured from the Puma store on Carnaby Street.  When we arrived there I was delighted to see that right next door was a bright little shop which, as made clear to all the world from the sign above its very clean window, was dedicated to the sale of Casio G-Shock watches.  My daughter and her mum when off to peruse the offerings by Puma and I scuttled into the Casio G-Shock shop like a kid into a sweet shop.
Now quartz watches are not normally my thing and the watches that were lit up around the store were all pretty funky quartz watches and thus quite different to my area of specialization which is mechanical watches (particularly automatic wristwatches and vintage pocket watches).
Casio G-Shock Carbon Core Guard – Watchmaker Review : The Video
I decided, for the record (and for my YouTube channel), to make a video of this work and much of what is contained within this article you can also see in detail by watching this.
Reference of Watch under Test
The exact model of the watch tested in this review was …

CASIO G-SHOCK CARBON CORE GUARD – GA 2000 1A9ER
Check Latest Price
You can checkout the latest price of this watch at both my UK Amazon Store and my US Amazon Store 
The Review Method
As always for this to be a genuinely helpful review I was determined that it should be as scientific and dispassionate as possible.  The plan I came up with was a simple one.  Firstly, as soon as I took it out of the box, I would test the watch's waterproofing to 50 meters in the pressure testing tank.  After that I would do a detailed inspection of the watch. Finally using the information gathered and in knowledge of the attractive price tag I would judge its value  for money.
I used my normal scoring system with the following criteria which were to be scored as follows.
Scoring system
The watch would judged in three main categories, both scored from 0 to 10
Build Quality (Engineering Standard – Reasonably Objective)
Looks (Aesthetics – Not quite so Objective!)
Value for Money – (dependent completely on the findings of the first two categories)
Strengths and Weaknesses
I also do a quick run through what I see as the strengths and weaknesses of the watch