An Invicta Watches Review – The Invicta Pro Diver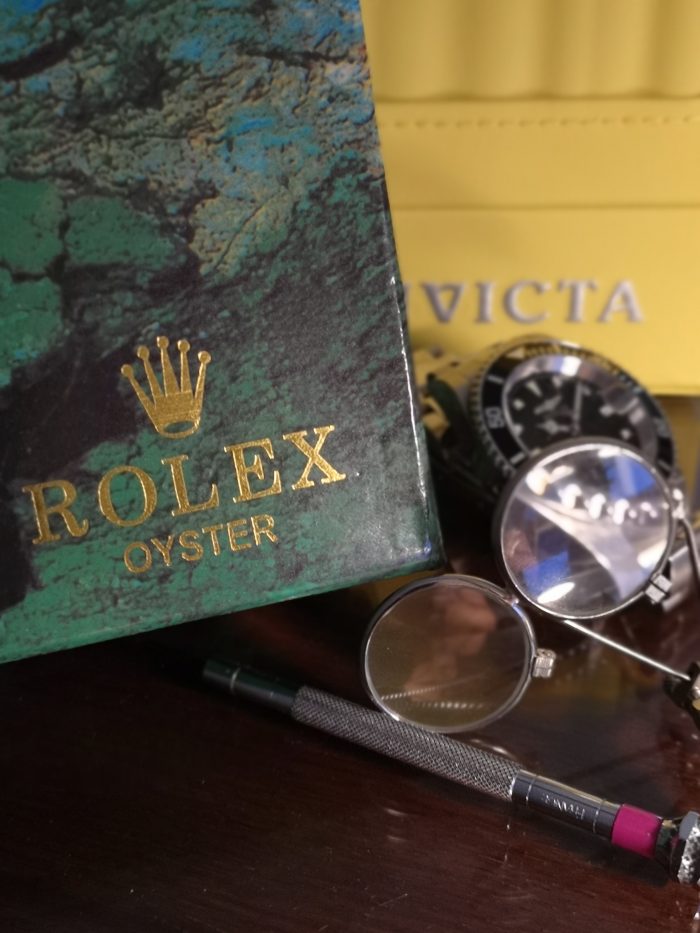 Before doing this Invicta Watches Review I had, for a long time, I avoided having anything to do with Invicta watches.  I guess I had decided that no self respecting watchmaker would wish to be associated with a brand that was so frequently under attack as a 'maybe not so good quality' product.  Watchmakers, I figured, surely don't waste their skill loaded time on these 'affordable' brands.   Despite this chronic, pompous and intransigent position my curiosity was repeatedly awakened by snippets of information on these watches that I just kept bumping into. An Invicta Pro Diver Review was just something that was inevitable I guess.
So one day I decided to take a proper look for myself at the specification of the Invicta Pro Diver model.  When I did I was immediately baffled by how Invicta could create and ship such a seemingly high specification watch at such an attractive price.  The only logical explanation I decided was that the bad reviews must be correct and the watch would be of suspect quality and finish.   So there I left it;  until that is I began planning a trip to the south of France.  I decided that I would like to take a watch, and a dive watch at that, to review whilst I was out there and the Invicta Pro Diver would do nicely.
I ordered the gold plated Invicta Pro Diver (ref 89290B) for the excellent reason that it was the cheapest I could find on Amazon and at the arguably aggressive price of £75 I began managing my own expectation prior to its arrival.
Invicta Pro Diver – Watchmaker Review : The Video
I decided, for the record (and for my YouTube channel), to make a video of this work and much of what is contained within this article you can also see in detail by watching this.
The Review Method
For this Invicta Pro Diver review to be genuinely useful I was determined that it should be as scientific and dispassionate as possible.  The plan I came up with was a simple one.  Firstly, as soon as I took it out of the box, I would test the watch's accuracy on the timegrapher  to check the watches regulation on leaving Invicta.  After that I would do a detailed inspection of the watch. Finally using the information gathered and in knowledge of the attractive price tag I would judge its value  for money.
It seemed sensible also to devise a scoring system for what I discovered so I came up with the following criteria which where to be scored as follows.
Scoring system
The watch would judged in three main categories, both scored from 0 to 10
Build Quality (Engineering Standard – Reasonably Objective)
Looks (Aesthetics – Not quite so Objective!)
Value for Money – (dependent completely on the findings of the first two categories)
Build Quality
The build quality was further broken down into the following areas .
Presentation
Case
Regulation
Keyless Works
Movement
Bracelet
Lume
Presentation.   In this area I looked at the general presentation of the watch on delivery.  This is distinct from 'Looks' as it makes no judgement about the visual design of the watch but rather the standard to which that design has been implemented.
Case.  This was a simple visual inspection of the case including the crystals back and front.
Regulation.  The Seiko NH35A is capable of a reasonable level of accuracy but this will only be attained if the watch has been properly regulated so this test was designed to see how good that regulation was when the watch first arrived.
Keyless Works.  The keyless works are particularly important as they together they form the assembly through which the owner of the watch interacts with it.  The crown is pulled out and turned in various positions to facilitate changing the watch time and date and to wind the watch.
Movement.  This was an assessment of the movement.  As someone who has serviced numerous Seiko automatic movements it was based on detailed knowledge of how this mechanisms operate.
Lume.  A pretty simple test just to see how good the lume on the watch is after the lights go out
Looks
It's tricky to be objective about a watch's aesthetic qualities.  Some folks like the submariner design and some don't.  It is however the most successful design maybe of all watches targeted at men in the last 50 years and I bore this heavily in might when considering this aspect.
Out of Scope
The above aspects were the only things that were considered and all other considerations were considered not in scope.  For example some people would never wear a homage watch on principle; the principle being that it was by definition something false, something trying to be something that is not.  Such sensitivities are, I figure, a real thing but this review remained completely ambivalent to them and the marks awarded were consequently not affected by this sort of thing at all.
Review Findings
It's fair to say that right from the moment I opened the 'none too shabby' yellow Invicta box I was impressed with what I saw.  The watch was heavy in the had, beautifully presented in its solid, nicely made box and, as you can see in the video I wasted no time winding up the mainspring and getting the watch on the timegrapher
Build Quality
Regulation
A couple of  days ago I had occasion to alter the time on a nice Rolex.  The watch (which retails at in excess of £6000) had not been serviced in a very long time and so I popped it on the timegrapher to see how its accuracy was doing.  Sure enough the watch had a very nice steady readout and was tolerably 'in beat', but it was consistently losing about 21 seconds a day in all five positions.

The beat was as solid as rock which you would expect of Rolex but the watch was not accurate.  At the end of a week it would be about two minutes slow.  The only way to rectify this is through regulation and that is why regulation is so important.  Even the best watches must be regulated and so it's where I start this report of my reviews findings.
So the Invicta Pro Diver watch on test was wound to about 90% max energy on the main spring and then it was placed Dial Up (DU), plastic scratch protection sleeves still on the bracelet, on the timegrapher.
This is what I observed during this Invicta Pro Diver Review…

This is a pretty good readout for a mechanical watch.  The amplitude is high but not too high and this shows that the 'right amount of life' is working through the power train.  The beat error is below 0.5 ms which shows that the impulse jewel on the balance is configured in relation to the pallet fork to an acceptable degree of accuracy.   Whilst I did not formally record these results for the other positions of the watch there was not a great deal of variation from these figures in the other positions which was also a good sign.
The NH35A movement has an official accuracy rating of between -20 and +40 seconds a day.  So the actually reading was sat smack in the middle of this range.  This was certainly a good start.   Score given:  8 out of 10
The Case
This version of the Invicta Pro Diver has a gold plated stainless steel case.  The gold plate is nicely applied and has an attractive 'yellow gold' look to it.  The watch looks great in natural light especially bright sunlight.  The case is very nicely finished and the exhibition case back is a nice feature   Score given:  8 out of 10
Presentation
The presentation of the watch on arrival was really very impressive.  Even the box is nice.  The watch was immaculate with no damage or marks of any kind.  The crystal and bracelet were protected by screen protectors and cellophane wrap.  Close inspection with a loupe of the dial showed this also to be immaculately presented with no dirt, dust or fibres present . Score given:  9 out of 10
Keyless Works
The crown screwed off the threaded pendant tube easily and the crown spring was nice an strong.  The watch wound easily with the crown unwound.  Pulling the crown out to its first position was nice and positive and the rapid date change is very responsive when the crown is turned in this position.  Again pulling the crown out to its second position was simple and yet there was enough tension present for the motion to feel positive and well engineered.  The torque required on the crown to turn the hands was just right; not to stiff and not too loose.  This is important as to set the time accurately the motion needs to be reasonably firm. Score given:  9 out of 10
The Movement
For a full description of the Seiko NH35A I recommend you look here ..
http://calibercorner.com/seiko-caliber-nh35a/
The main points however are  …
21,600 beats per hour
Magic lever (Pawl) type automatic works
24 Jewels
41 hour power reserve
Calendar complication
It hacks (you can stop the second hand)
Anything above 21 jewels with and automatic movement and we can be pretty sure the movement is designed to be of high quality.  The 41 hour power reserve is pretty standard but not therefore a weak link in any way.  The calendar complication is of the slow transition type (it does not snap over at midnight like some higher specification calibres) but it is very reliable, nicely implemented and has rapid date selection for the user which is invoked via the crown in its first position pulled from the movement.  The beat rate is a good compromise for the accuracy versus power reserve trade off and the hacking feature is very helpful as it allows the owner to reset his or her watch precisely to the exact time by stopping the sweep hand.
In addition to all of the above this is a movement with a very impressive pedigree and it has been in mass production and proved itself in hundreds of thousands of watches since its introduction.  It is a very reliable workhorse with acceptable accuracy and the ability to rapidly reset the date and time.  Score given 8 out of 10
Lume
The lume is actually just OK.  It's not great; it is not super bright and it loses what intensity it has pretty quickly in the dark.  But it is there and it sort of works and this is an Invicta Pro Diver Review I was conducting, I fact that I had to keep reminding myself of. Score given 7 out of 10
Looks
The basic design is that of a submariner.  This is arguably the most popular man's watch design ever produced.  Ugly watches do not get this type of following.   It is fair to say then that a very large number of people have voted with their hard earned cash to the effect that this watch has a design which is is generally considered to look very good.  I love it the look too so I am going to score is 10.  Score given 9.5 out of 10
Post Experiment Developments
One of the good things about writing up this work several months after doing the initial review is that I can incorporate things that have occured since I recorded the actual review on video.
The Bezel Ratchet Spring Broke!
In this Invicta Pro Diver Review the watch under test had plenty of under water exposure soon after purchase.  I wore it a lot swimming in the Mediterranean in the early summer and then the summer in UK in 2018 turned out to be a scorcher so I was in the sea with it a lot.  Then one day after coming back from the beach I turned the bezel and it just spun around.  It had become bi-directional (this is bad as it is only supposed to turn one way) and the ratchet click had disappeared completely.  As recorded in a video I made on the subject the fix was pretty easy but this did show a little vulnerability in this Invicta Pro Diver model.
As a result I have deducted a point from the build quality score.  Penalised Build Quality: -0.5 point 
Scores and Deductions
So, what did the Invicta Pro Diver score in this review and what can we deduce from its performance overall.  This picture aims to sum it all up.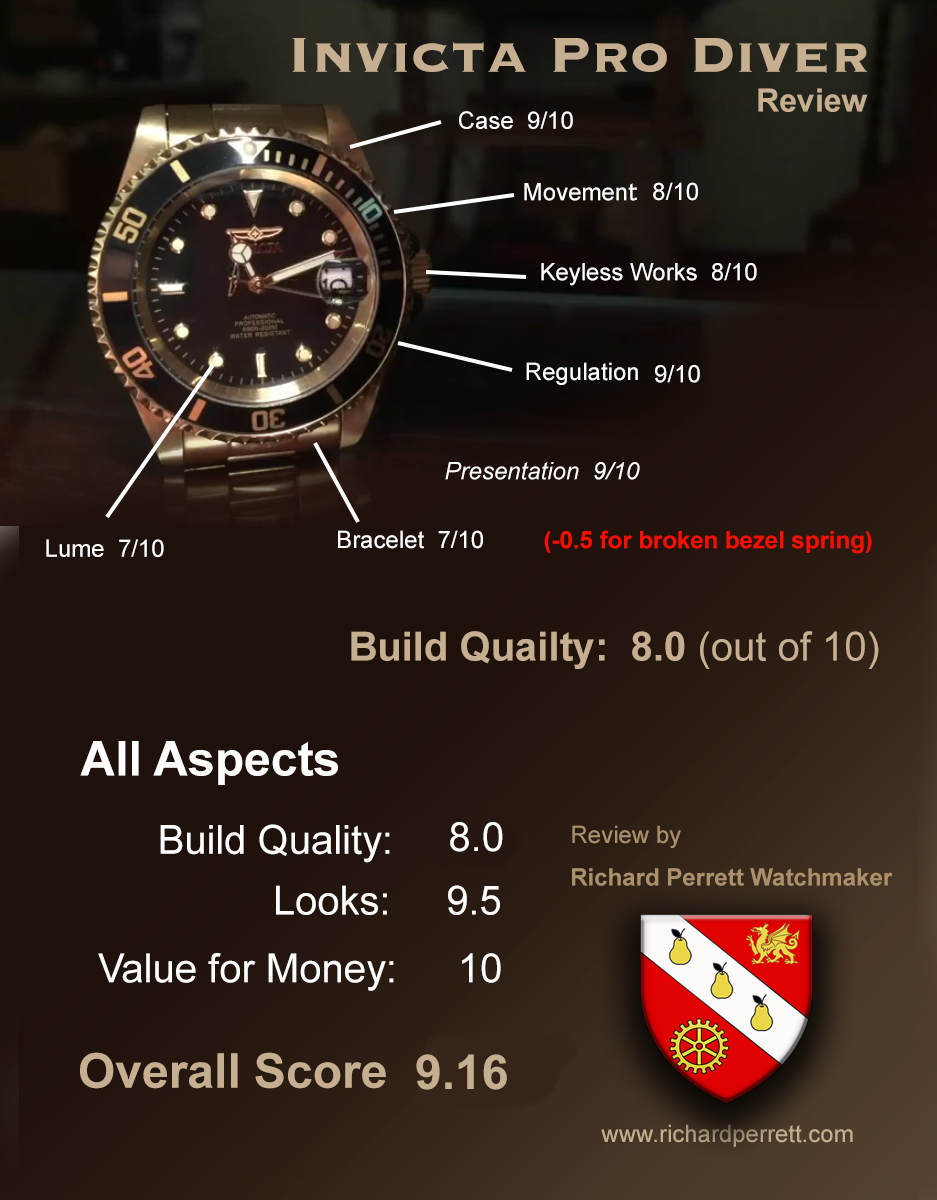 So, that's pretty much  it for this Invicta Pro Diver Review.  You will have guessed by now that I was really very impress with the amount of watch that Invicta ship here at such a competitive price.  If you fancy getting you hand on one see my pick of the nicest models in this range below.
My Pick of Invicta Pro Diver Automatic (Seiko NH35A) Models
I bought the watches used in this Invicta Pro Diver review from Amazon because it's quick and the prices were great.  Here's my pick then to help you do likewise …
| | | |
| --- | --- | --- |
| Stainless Steel | Gold Plated | "The Smurf" |
| | | |