The Starking AM0184 – What's The Catch?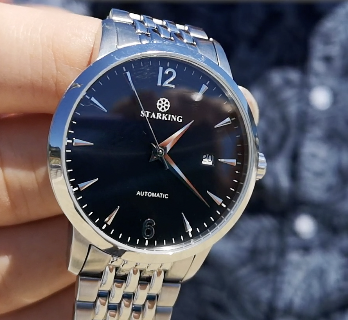 They say if it looks too good to be true then is most probably is too good to be true. So, when the specification of the Starking AM0184 is seen in the light cast by its incredibly low price I am already looking for the downside that explains everything. For this watch has, on paper at least a very impressive specification and yet the leather strapped version may be purchased online for an amazing $51, that's less then £50. The version reviewed here with the black dial and stainless steel bracelet comes in a little more at £???. But these are low prices for a what that boasts.
• Automatic, 'Lots of Jewels', Hi-Beat, Hacking, movement (28,800 bph)
• Highly polished Stainless Steel Case
• Exhibition Caseback
• Date Function
• Quality Stainless Steel Bracelet with solid links and machined (and polished) Deployment clasp
• Sapphire Crystal
All of the above you will routinely find in a new Rolex or Omega but 'affordable' brands rarely have all if these high quality components. Some have one or two … but never all of them. Not so the Starking AM0184.
So in this review I am going to discover if there is a catch, I am going to do a thorough watchmaker's inspection of the piece and give my verdict on whether or not there is a catch. In doing this I will test the watch on the timegrapher and partly dismantle the movement to check on the quality therein.
Starking AM0184 – Watchmaker Review – The video
I recorded the whole process of this review for my YouTube channel which so you can also actually watch me conduct the analysis.
Review Method
Having given the watch a thorough examination I will score it under the following categories …
• Engineering Build Quality
• Looks
• Value for Money
… and I will start with Looks
Looks
Aside from a small niggle I have about the small size of the date window in comparison with the dial size this watch looks great. In profile from the side view the case is scoped upwards towards the bezel housing the sapphire crystal. It looks like a very shiny retro lunar landing module. And the polishing is really very, very good. So good is it that whilst filming for the video all I could see when shooting the side of the watch was my own reflection. The dial design is 'classic cocktail' watch, reminiscent of the Tissot Visodate and some of the more plain Grand Seiko models. It is, apart from that date window, very elegant. The sapphire crystal, the applied indicies completed with applied Arabic numerals at the 12 and 6 o'clock position all make for a very pleasing effect. The printing of the dial is also bright and sharp even at high magnification.
Even the bracelet looks great. The fit at the lugs is spot on and the contrast between lightly brushed outer links and highly polished inner links is really very impressive as is the machined and highly polished deployment clasp.
So, this watch looks great and I score it 9 out of 10 for looks.
Score for Looks:  9 out of 10
Engineering Build Quality
So, we already know that at $51 dollars unless there is a disaster with the engineering build quality this watch is going to score highly in Value for Money. We also know that the watch looks good so everything now hangs on the quality. If on inspection the watch looks as if it going to fall apart or stop working at any moment then the low price would start to make sense, if not we must deduce that we have a real bargain here. It is tin this part of the analysis that I need to do my job well and this is where being a full time watchmaker really comes in useful.
Let's start with the movement ….
The Movement
The movement is where we would expect to see some compromise in a watch at this price.  And we do see it but not to the extent that I had expected.  There are some good things about the movement and some not so good things.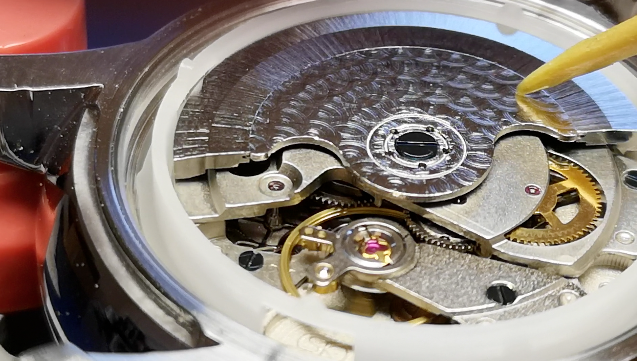 The Good things are :
High number of jewels including the mainspring barrel arbor.
Sensible and potential accurate bph at 28,800
Cleanliness on inspection.
Respectable performance (see below)
No so good things are :
Uni-directional power input on automatic works (but then the Valjoux 7750 also only inputs power in one direction so this is by no means a major issue)
Plastic Movement holder.  These are actually quite effective but I just don't like them.
Movement Performance
The performance of the movement was respectable.  In the Dial Up position the trace on the timegrapher resembled that of a Seiko which had been running for a few years.  It was by no means that of a businesslike swiss chronometer but then I guess this is why this watch costs only $51.  At that price the performance starts to look pretty respectable.
As you can see from the trace below the readout dial up is not at all bad.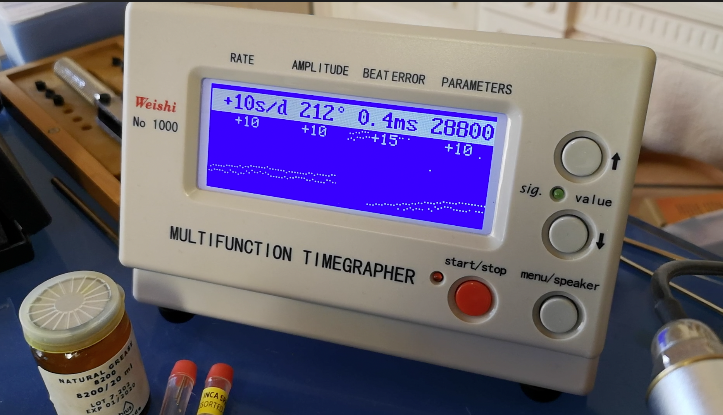 The full performance figures for all the positions were …

Putting all this together I decided to score the movement a respectable 7 out of 10
Movement Score:  7 Out of 10
The Crystal
What can I say?  It's sapphire, its nicely held in place by it's shiney stainless steel case .  It looks great and is very tough so I scored it a 9 out of 10.
Crystal Score: 9 Out of 10
The Case
The case on the Starking AM0184 is refreshing different from a lot of similar watches and it is 'very shiney' which is good for a dress watch.  During filming for the video I suddenly became aware that I could see my reflection in the case in a way that I have never noticed before.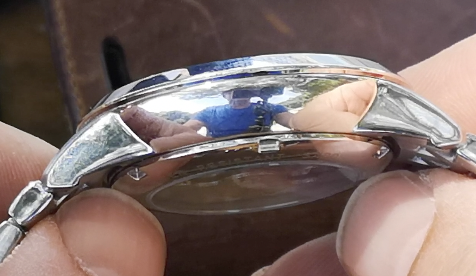 In profile the case looks a little like a squashed lunar landing module.  It's a bit quirky and different, the diameter of the exhibition window being a lot smaller than the dial so the case widens outwards to accommodate the dial in a pleasing way.
It's an attractive nicely constructed case and I give it a 9 Out of 10
Case Score:  9 Out of 10
The Bracelet
Often when a watch is aggressively price it is the strap or bracelet which has been targeted to take the hit on quality.  It's an obvious place for the manufactured to try and save some money and increase their margin.   Not so with the Starking AM0184 as the bracelet is really very good quality.  Amazingly at this price even the deployment clasp is made from solid machined stainless steel.  Most often at this price point the claps is made from simple thin pressed steel plates and the result is flimsy.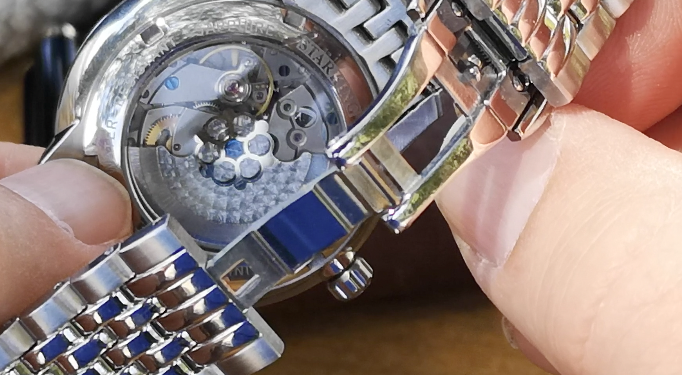 The Starking AM0184 clasp is solid and the bracelet is good quality.  I gave it a firm endorsement with a score of 9 out of  10.
Bracelet Score:  9 Out of 10
Value for Money
It is easier for a $51 watch to score highly in value for money than it is a Rolex Submariner which retails at well over one hundred times that price.  But in the Starking AM0184 the amount of good things that you get for what is really a very low price is remarkable and I have no hesitation in awarding a 10 out of 10.
It is, when all is said and done, a hell of a lot of watch for this kind of money.
Summary of Findings
So here are the final scores for this Starking AM0184 watch  ….

Conclusions
This is one of the highest scoring watches that I have ever reviewed.  Predictably it does really well on Value for Money but it's in the area of build quality that I was most pleasantly surprised.  All in all a very convincing performance by this attractive watch by Starking.
Get the Watch
Starking AM0184 Watch – A Lot of Watch for the Money.