Vintage Rolex Submariner – Accurate, Resilient and Very Cool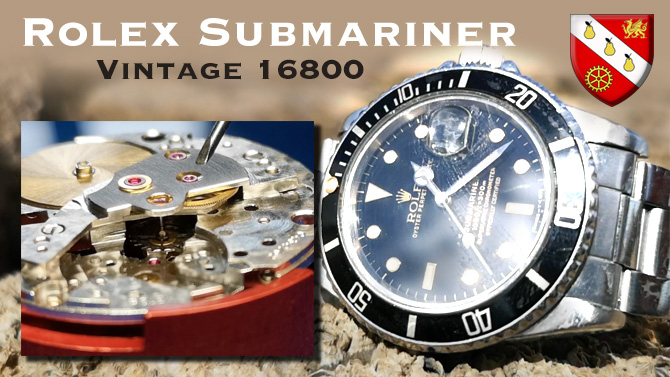 The desire for a new watch is perfectly understandable; folks like new stuff!  It's just the way it is. Whether or not it is the right way to go when dropping $7K on a watch is ultimately only something the person buying the watch can make a judgement on.  What is certain however is that it is not the only option.  In my work as a watchmaker I routinely service Vintage Rolex watches and I am constantly struck by just how functional and resilient these pieces are.
Rolex Submariner Evolution 
The ubiquitous  Submariner has been through an interesting evolution in terms of both movement and subtle styling on the case.  The transition to high beat (28,800 vph) was fundamental in terms of its power pack improvement and the 3135 movement which as I write this in September 2019 still powers the latest models is a very business like engine.  The 3035 movement is also highly functional and the 1500 movements still hold their own very nicely.
Rolex Submariner Styling
So, with the internal technology then there is a compelling argument that this  evolution has seen steady and demonstrable improvement.  The criteria for measuring this is reasonably objective and hence contention is low on this issue.  However, when we consider the concurrent evolution in case design the same lack of contention is missing.  There is no raging agreement that Rolex has got the styling of its current submariner range case 'right'.  Such judgements are of course much more subjective and with Rolex stoking demand by constricting the pipeline to the Authorised Dealers effective analysis of sales based on true 'consumer taste' is tricky.  There is a feeling that the modern watches are in demand because they are hard to get not because of some fabulous intrinsic design triumph.
This dissatisfaction with the modern styling is something quite commonly voiced and the look of a watch is of course very important.  There is a feeling maybe that the design of the earlier models, the Rolex 16610, Rolex 16613 (probably the best vintage Rolex in my view of them all)  The answer to all this aggravating nonsense with waiting lists to me seems pretty obvious  … do not buy new!
The answer to all this aggravating nonsense with waiting lists to me seems pretty obvious  … do not buy new!
Buying a vintage piece is in the current climate not a bad option at all.
Vintage Rolex Submariner 16800
This article compliments the video I made for my YouTube channel on this watch.  So if you would like a really good look at this vintage Rolex in action then take a look ….
The Advantages and Disadvantages of Buying a Vintage Rolex
The advantages and disadvantages of buying a vintage Rolex are …
Disadvantages
Warranty is more limited.
The choice of vendors includes some that are best avoided
Advantages
The styling is arguably 'cooler'.
The choice is much much larger.
The are no waiting lists
The value of the watch is more likely to rise.
Integrity Checking a Vintage Rolex Submariner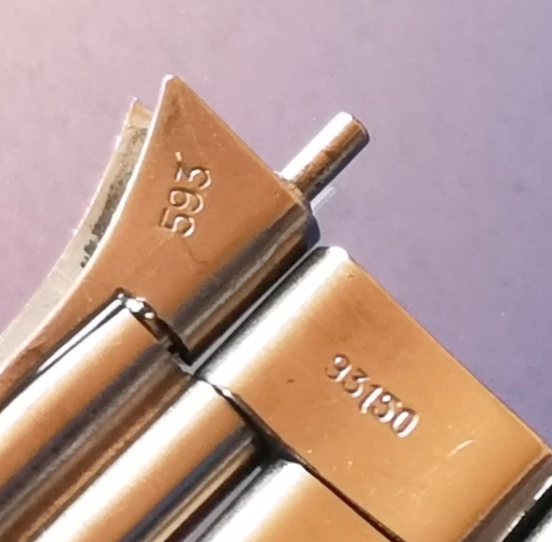 Having weighed the pros and cons if you do decide to go for a vintage piece you are best going into this potentially risky purchase armed with some important information.
When you buy a Rolex from an authorised dealer you can be pretty sure that you are getting the real deal and that all the parts of the watch will be correct for the Rolex reference that you are buying.   The same is not the case for a Vintage Rolex purchase.
By definition a vintage watch is old and anything that is old can have undergone a series of changes to it's composition that have effectively rendered the item very different from went it was first created.  Whilst there is no foolproof way of determining the integrity of a vintage Rolex Submariner there are a number of things that you can do to check what you are buying is the genuine article.
Rolex Serial Numbers and Component Codes
Helpfully Rolex has routinely coded the different parts of their watches and the resulting numbers that are engraved on various parts of the watch can be very helpful in determining if the watch for sale is the same watch that was sold by the authorised dealer all those years ago.
Using the Vintage Rolex Submariner that is the subject of this article the table below shows the level of information that can be collated from an inspection of the various serial numbers engraved on the watch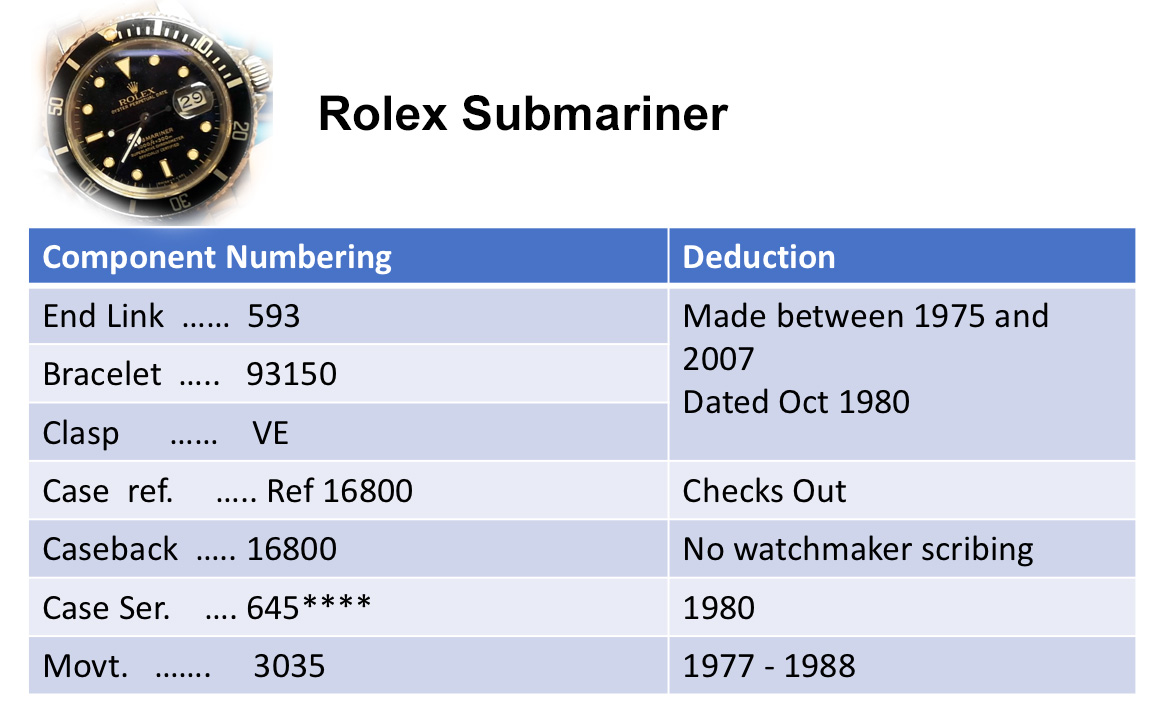 Of the numbers and codes shown above on this 1980 Rolex Submariner 16800 only the movement number (3035) and the caseback number (16800) are not easily accessible to the dealer or potential buyer.
A quick inspection of these numbers and we can see that this watch 'checks out'.  The movement is right for the case, the bracelet is right for the case and the bracelet clasp is dated correctly.  There is a very high probability that these components were the same components that made up the original watch when it was made and sold in 1980.
For more information on how to get as much information as possible on vintage Rolex watches then please check out my video on my YouTube Channel on this subject.
So What's Inside a Vintage Rolex Submariner 16800?
So the outside of the watch is cool the bracelet is simple and functional but if you decide to go with a vintage Rolex Submariner what is it that you are actually spending so much money on.  The quick answer to this question is High Quality Rolex Components.
Again taking the transitional Rolex Submariner 16800 as the example (but the same holds true for the Rolex Submariner 16613 and 16610 equipped with the 3135 movement and even the earlier models based on the 15xx series movements)  …
A Superbly Accurate and Highly Resilient Mechanical Movement
The movement inside the Rolex Submariner 16800 is the first in the now legendary 3000 series movements namely the Rolex 3035.  The watch is called transitional because it marks, with the adoption of this movement, the milestone in Rolex evolution which is the transition to High Beat movements.  Prior to the 16800 the previous submariners where equipped with a movement from the much lower frequency (less ticks per second)
The Rolex 3035 is a very high quality watch movement which beats at 28,800 beats per hour (bph).  It is readily maintainable buy a watchmaker familiar with it and it is built to last down the generations.  In my video on this watch I go through many aspects of the movement to point out why it is such a good design and the lengths Rolex have gone to in its creation to make sure that the critical watch functions operate smoothly and reliably.  A case in point would be the jeweling of the advancing wheel cam shown in the diagram below.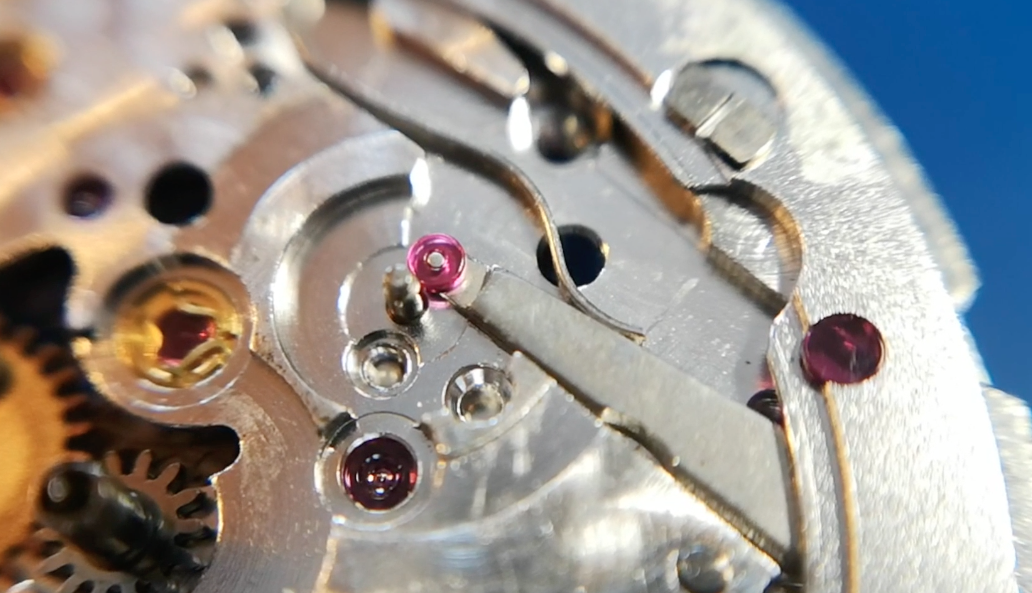 Regaining the Waterproof Rolex Submariner Credentials
It's called a submariner so it is not unreasonable having spent maybe $7K on one that it does indeed work properly under water.  So, firstly and this is important … on no account should you submerse a Vintage Submariner without first having had a watchmaker service and pressure test the case.  There are several rubber gaskets on a Rolex submariner case and they all need to be expertly replaced.  The tolerances are very fine and exactly the right replacement components need to be fitted.
Once fitted the case needs to pressure tested.  Most independent watchmakers will only test down to 60 meters of water pressure.   This is way more pressure than anyone other than a serious deep sea diver will encounter so this test is in most cases both absolutely essential and absolutely fine.
Maintaining a Vintage Rolex Submariner
Part of the beauty of owning a Vintage Rolex Submariner is that it can be made to run well pretty much ad infinitum.  For proper servicing you will need to find a watchmaker who knows his or her way away these movements and has the correct tooling and access to adequate spare parts to complete the tasks necessary.   Whilst these are to be found they do not exactly grow on trees these days so access to a reliable watchmaker is actually an important factor when purchasing a vintage Rolex.
Going with Rolex
Of course many watches, especially the more recent models,  can be sent back to Rolex themselves for service and this is often a good way to go.  The cost of going back to Rolex is normally significantly higher than you will pay with an independent watchmaker but you do have the peace of mind that Rolex themselves are handling the procedure and it is hence underwritten by a very fine watchmaking organisation.  Anecdotally you may need to be very clear with vintage pieces on the parts that you wish to retain despite their condition.  Rolex clearly has a massive stock of replacement parts and unless you are clear there exists the danger that, for example the lovely old hands that look shabby chic are swapped out for new ones.
The Independent Watchmaker
The quality of independent watchmakers varies greatly as does their individual specialisations.  If you have a vintage Rolex it makes sense, should you decide to go down the independent route, to go with someone who specialises in Rolex and maybe a few other brands.  The watchmaker must have and be able to demonstrate experience with the watch you need serviced, he must have the necessary tooling and access to the most common parts that need swapping out during a service.
If you would like me to service your vintage Rolex then please just contact me using the form on my contact page 
I set up my YouTube channel partly to demonstrate exactly how I go about the business of servicing high end watches so if you were to decide you would like to instruct myself to service your watch you need only watch my videos on vintage Rolex to see how I approach my work.  If you were then to go to the Rolex website and look at there maintenance section you would see, not surprisingly, a very clear and close similarity in workflow.
If you would like me to service your vintage Rolex then please just contact me using the form on my contact page 
Me! An Independent watchmaker specialising in Vintage Rolex
Summary
The current (Autumn 2019) difficulties around getting hold of new Rolex stainless steel sports models makes the vintage Rolex market even more attractive than it already was.  Vintage Submariners are potentially very cool, very resilient, very waterproof and very accurate watches.  They cost quite a lot of money and need to be maintained by someone expert in their care.
I hope you have found this article helpful and if you have any queries then please use the contact page of this website and I will endeavour to respond swiftly.
Vintage Rolex Submariner – 1980 Submariner 16800